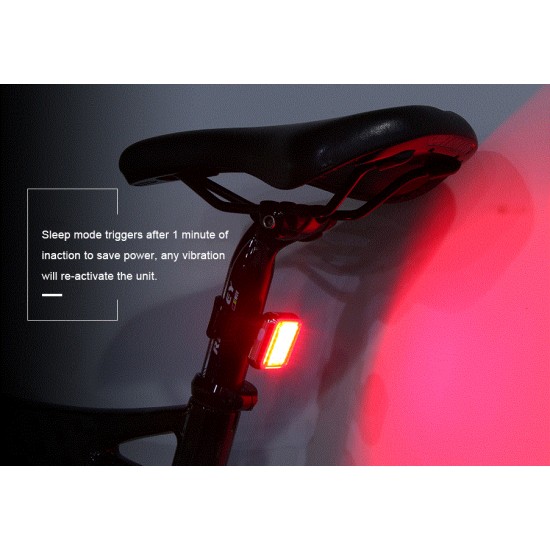 Magicshine Seemee 60 lumen taillight
State:

In stock

Model:

seemee 60

SKU:

10624
Magicshine new bike tail light, Seemee 60, small, sleek and portable design bike blinker with the latest tech.
With the high powered COB red LED light source, the max output is 60 lumens, capable of 180 degrees of visibility. 3 brightness levels, a constant mode and 2 flash modes can be used in any combo, note that the high mode gives out 30 lumens, while the mid and low modes 17 and 9 lumens respectively.
Built with latest vibration and motion sensor, the Seemee 60 bike tail light detects when the rider has engaged in a sudden stop motion to increase its output to 60 lumens in a frenzy of flashes, warning fellow travelers and motorists.
This light pattern will be bright enough to warrant attention but not enough to cause temporary blindness which is just as likely to cause accidents.
With the same sensors, the tail light enters into a sleep mode to save power after one minute of inaction.
Any movement will immediately re-activate the unit. Installation and removal of the taillight is super quick and easy, rotate 90 degrees to install and rotate 90 degrees back to remove, that's it! Micro-USB charging port is built into the back side of the tail light with water resistant silicone port cover.
Seamless integration of the red lens and aluminum alloy plate framing gives the Seemee 60 an IPX level of 6! Seemee 60 comes with mounting setups for both the round and Aero seat posts, as well as a multi-purpose mounting clip that will turn this bike tail light into a signal / safety light that can be clipped onto your backpack, helmet strap, saddlebag, even shirt collar.